Contenu
ENGIE Solutions' mission is to provide state of the art, innovative and reliable solutions to Public Transit which improve passenger experience, operations efficiency, safety and maintenance.
We developed an Intelligent Transportation Systems & Services platform, an advanced solution that help Transit Operations to better manage their daily operations and better serve their clients.
Integrated technologies for your bus and rail operations needs
ENGIE Solutions has developed a range of systems based on its unrivaled experience working in the public transit technology space.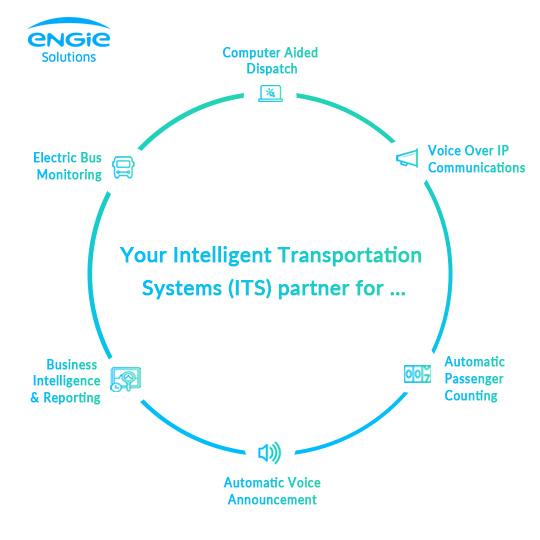 Multi-modal operations control  
The ENGIE Solutions CAD/AVL
The combined Computer Aided Dispatch and Automatic Vehicle Location system will provide benefits such as optimized performance of service, increased reliability and passenger safety. Your field supervisors and dispatchers can monitor vehicles wirelessly and respond to any issues. The system allows for continuous communication between vehicles and the Control Centre.
The ENGIE Solutions CAD/AVL is a state-of-the-art live dispatching solution and the heart of the ENGIE Solutions Intelligent Transportation Systems (ITS) suite. It has been designed for Transit Agencies that require a real-time transit management tool for their operations staff, to monitor and improve communications with their fleet and riders.
It is designed to enhance and streamline bus operations from the dispatch, resulting in improved day-to-day operations, reduced operational cost and better customer communications.
The ENGIE Solutions CAD/AVL is available as a mobile Dispatch as operation staff can access the system from a mobile Tablet or Smartphone. Headway & Bunching management - Improve spacing between buses and kill the bunch with our Headway management tools designed to automatically space out buses in case of bunching.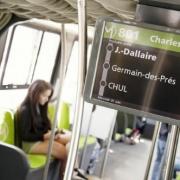 The experience is everything
ENGIE Solutions' systems enhance the passenger experience with reliable real-time information. Our technology seamlessly pushes real-time predictions and service alerts to a variety of channels, including your operation's desktop website, mobile app, SMS text messages and digital signs. Your riders are informed wherever they are, with real-time service alerts, available via GTFS-RT and open API.
The ENGIE Solutions' systems enhance the passenger experience with reliable real-time information
On-board Infotainment
With the new on-board Infotainment technology, messages are sent to the vehicles in real-time and provide passengers with quick, easy-to-understand information to make the best choice for their journeys. Providing accurate, timely information with an on-demand experience makes riding the bus or trains a more attractive option.
Automatic Voice Announcement (AVA)
Our AVA solution provides clear voice announcements for next stops, upcoming transfer points, current route, destinations, service alerts and advertisements. Our system includes a text-to-speech engine, which allows Transit Staff to easily create and edit announcements on all routes, wirelessly and in real-time.
You will have the flexibility to remotely create arrival and departure announcements for both interior and exterior speakers on your bus. You can also instantly push important Public Service Announcements (PSA), such as service change, detours or weather alerts.
Unleash the power of your data - Business Analytics and reporting
You are now able to measure how well your fleet is performing against your Key Performance Indicators. You can plan better service and improve efficiencies. 
Our core set of reports includes on-time performance, driver performance, route, run and block performance, mileage, passenger count and route schedule analysis.
View any of these statistics at a high level and then dig in for more granular details to identify the routes that are giving you the most trouble, the drivers that are underperforming, and more.
Automatic Passenger Counting
The ENGIE Solutions Automatic Passenger Counting (APC) module support Public Transit operations into enhancing route evaluation and optimization, monitor vehicle load, improve performance and simplify local and NTD reporting. The APC solution will not only provide you with accurate ridership data (more than 98% accuracy) but also an innovative way to verify counting data through video 3D technology.
The ENGIE Solutions APC module is fully integrated with the CAD/AVL, as it uses the same Vehicle Logic Unit hardware for a full integration.
Each APC sensor provides the Vehicle Logic Unit with boarding and alighting counts, which then stores the counting data and links them to date, time, GPS, stop ID, route, trip, block, and more information.
Real-time occupancy status is made available at the Dispatch, allowing your Operations Staff to quickly react if vehicles are getting closer to the occupancy limit. In addition, this information is fed to your riders on your mobile app via GTFS-RT, so they can visualize if the next bus arriving is full or not, and respect social distancing. Your passengers will be able to avoid crowds using this new real-time information, travel in a safe environment and gain confidence into Public Transportation.
Voice over IP radio communications for public transit
Seamlessly integrated to our CAD/AVL system, our VoIP offers all radio features such as group calls, private calls, emergency calls and alarms, and can function on any data carriers, allowing you to choose your primary provider for safe and reliable voice and data communications. The solution has been designed with Public Transportation application in mind and support all your voice and high-speed data requirements.
With less than 100 Mo per month, all CAD/AVL and voice communication requirements are met, therefore not using more data than agencies usually use with their data plan.
By using the ENGIE Solutions VoIP module, Transit Agencies can experience reliable, high-speed communications, while saving up to 50% of what a traditional radio communications system would cost them.