Tous vos besoins
---
Consultancy, engineering, financing, works

Multi-technical and multi-site operation and maintenance

Industrial, mechanical & electromechanical maintenance, non-destructive testing, welding and related techniques

Consultancy, engineering, financing, works

Cutting-edge facilities for energy, electricity, connectivity, heating, refrigeration, light, air, security and process fluids

Multi-technical and multi-site operation and maintenance

Industrial, mechanical & electromechanical maintenance, non-destructive testing, welding and related techniques

Cutting-edge facilities for energy, electricity, connectivity, heating, refrigeration, light, air, security and process fluids

Consultancy, engineering, financing, works

Energy management, with guaranteed energy and comfort results/service levels

Cutting-edge facilities for energy, electricity, connectivity, heating, refrigeration, light, air, security and process fluids

Turnkey support throughout the life-cycle of assets

Industrial, mechanical & electromechanical maintenance, non-destructive testing, welding and related techniques

On-site and off-site energy production and storage

Gas and green electricity supply

Production and management of green industrial utilities: refrigeration, N2, steam, compressed air

Design and operation of a bespoke energy mix

On-site and off-site energy production and storage

Gas and green electricity supply

Design and operation of a bespoke energy mix

On-site and off-site energy production and storage

Gas and green electricity supply

Engineering, financing, construction, operation and maintenance

Design and operation of a bespoke energy mix

On-site and off-site energy production and storage

Carbon-free urban heating and air conditioning

Production and management of green industrial utilities: refrigeration, N2, steam, compressed air

Electrification of transport lines

Town planning, site and space development

Climatic and electrical engineering (thermal comfort, lighting, air quality control) and fire protection

Digitalisation of interfaces and objects

Flow, coolant, discharge and waste management

Storage and leveraging the potential of electrical flexibility

Smart transport and telecommunications infrastructure systems

Use of vegetation and circular economy

Turnkey support throughout the life-cycle of assets

Town planning, site and space development

Digitalisation of interfaces and objects

Our achievements
Green mobility: hydrogen buses in Hauts-de-France
The Tadao bus network, part of the Artois-Gohelle joint public transport authority, has more than 200 buses. It is part of a public transport network comprising 114 towns and around 700,000 Hauts-de-France residents. A pioneer in the application of renewable energy solutions, the network already has 41 hybrid buses in its fleet. In a complete overhaul, Tadao is modernising its network, with improved frequencies, punctuality, networking and service, as well as the arrival of new buses and access to real-time information. The aim is to offer users optimal quality and comfort.
In 2019, a new milestone was reached with the commissioning of a renewable hydrogen distribution station supplying six buses.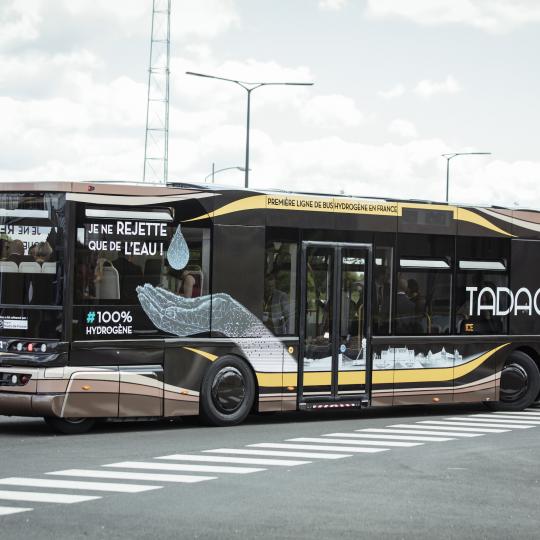 Image
Shall you need more information about our offers?