Tous vos besoins
---
Consultancy, engineering, financing, works

Multi-technical and multi-site operation and maintenance

Industrial, mechanical & electromechanical maintenance, non-destructive testing, welding and related techniques

Energy management, with guaranteed energy and comfort results/service levels

Cutting-edge facilities for energy, electricity, connectivity, heating, refrigeration, light, air, security and process fluids

Engineering, financing, construction, operation and maintenance

Design and operation of a bespoke energy mix

On-site and off-site energy production and storage

Industrial, mechanical & electromechanical maintenance, non-destructive testing, welding and related techniques

On-site and off-site energy production and storage

Gas and green electricity supply

Production and management of green industrial utilities: refrigeration, N2, steam, compressed air

Engineering, financing, construction, operation and maintenance

Design and operation of a bespoke energy mix

On-site and off-site energy production and storage

Carbon-free urban heating and air conditioning

Production and management of green industrial utilities: refrigeration, N2, steam, compressed air

Electrification of transport lines

Town planning, site and space development

Digitalisation of interfaces and objects

Storage and leveraging the potential of electrical flexibility

Use of vegetation and circular economy

Smart transport and telecommunications infrastructure systems

Carbon-free mobility systems: electrical and hydrogen, compressed natural gas, including biomethane

Town planning, site and space development

Climatic and electrical engineering (thermal comfort, lighting, air quality control) and fire protection

Digitalisation of interfaces and objects

Flow, coolant, discharge and waste management

Storage and leveraging the potential of electrical flexibility

Smart transport and telecommunications infrastructure systems

Use of vegetation and circular economy

Our achievements
Sysco: investing in low-carbon solutions with ILICO2
Sysco France manufactures and distributes fresh and deep-frozen food products to professionals in the food services sector (canteens, restaurants and local authorities).
Within the framework of the work on extending the warehouse at the Lagny-Le-Sec site (northern France), Sysco has invested in a low-carbon refrigeration solution that uses natural refrigerants: ILICO2.
The complexity of this extension project was in the need to ensure service continuity throughout the works. To address this requirement, ENGIE Solutions had to build a second warehouse adjacent to the first, and link up the two networks without breaking the cold chain.
A technical challenge that was designed, developed and delivered in ten months.
This project has reduced the site's energy consumption and has prevented 1400 tonnes of CO2 emissions per year.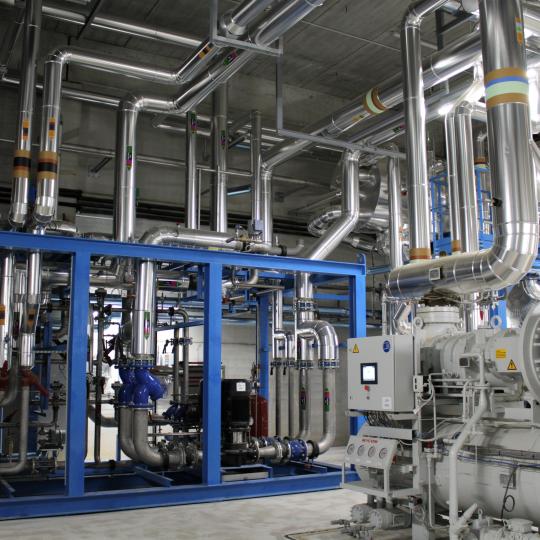 Image
Shall you need more information about our offers?