ENGIE Solutions and EIT InnoEnergy to back bioenergy start-up Naoden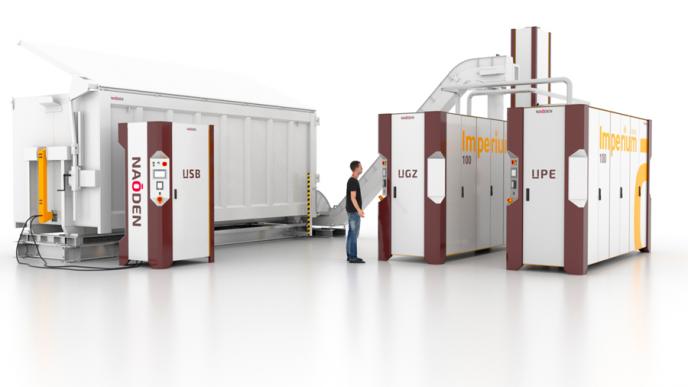 ENGIE Solutions and EIT InnoEnergy to back bioenergy start-up Naoden in €1.6M capital raise
The investment will accelerate industrialisation of Naoden's module waste-to-energy technology
Naoden, a designer, manufacturer and installer of bioenergy power plants has raised over €1.6M including investments from EIT InnoEnergy and ENGIE Solutions and some other key partners. Based in Nantes, Naoden will use the capital to industrialise its modular waste-to-energy technology for mass production as well as strengthen its commercial and industrial teams to facilitate ongoing growth.
Investors consider Naoden's technology vital for accelerating the shift towards sustainable cities and industries. It constitutes a flagship innovation for the circular economy by offering a simple, off-grid alternative to fossil fuels such as natural gas, propane, or fuel oil.
Through the gasification of waste wood, Naoden's modular green energy solution can generate heat, or heat and electricity (cogeneration), for use in commercial and domestic settings. The solution addresses the challenge of producing sustainable energy, while also making a positive impact on waste management. The potential market for waste-to-energy is significant with over 5 million tonnes of biomass already recovered by biomass boilers, and millions more tonnes of waste wood produced yearly. This waste stream alone could see the installation of 10,730 of Naoden's Imperium 100 cogeneration units which would combust the waste to produce usable electricity and heat.
Alongside the investment, Naoden will continue to receive business support from all the stakeholders. As the innovation engine for sustainable energy across Europe, EIT InnoEnergy has a track record of supporting start-ups for initial market launch and to scale-up. From ENGIE Solutions, Naoden will continue to benefit from strategic advice and market intel and Noaden's technologies will also form part of ENGIE Solutions' portfolio of sustainable energy solutions that can help customers decarbonise and greening their energies and resources. ENGIE Solutions supports towns, industries and companies in the tertiary sector, providing them with solutions to the challenges posed by the energy transition in the form of turnkey and bespoke packages. Heat represents in France half of the final consumed energy. From now on, industries, companies and local authorities have to include in their energetical policy innovative means to produce and use energy in a more efficient, green and economical way. Naoden is an innovative answer to this challenge. 
Celebrating the capital raise, Naoden President Erik Mouillé said: "This is a milestone moment for Naoden. We know that for the world to be sustainable, the energy of tomorrow needs to be produced and transported differently. Equally, waste management is a major issue for our society. 
"We have worked tirelessly to develop a circular economy solution that can address both these challenges in a meaningful way. With the continued backing and expertise from our investors, we will be able to fully deploy our technology for the benefit of many."   
Richard Biagioni, CEO of EIT InnoEnergy France said: "Addressing waste is a fundamental part of society's shift to a more sustainable future. By supporting clever start-ups such as Naoden, that simultaneously address waste and sustainable energy, we can truly maximise our impact."
Arnaud de Frémicourt, Development Project Manager at ENGIE Solutions added: "The current crisis legitimates even more the major aim of ENGIE Group: to transition to a zero-carbon economy we need decentralized energy solutions that can produce energy at a local scale, close to the consumer. As a historical investor in Naoden, ENGIE Solutions is demonstrating its intent to support innovative solutions and startups as they help to optimise and decarbonise the territories'energy use." 
Atlantique Vendee Innovation, Bouyer Leroux Development, La Financière Guilberteau, Investir&+, Litto Invest and Pays de la Loire Participation are also very glad to commit in the funding round to support Naoden.