Mobility: the green revolution is under way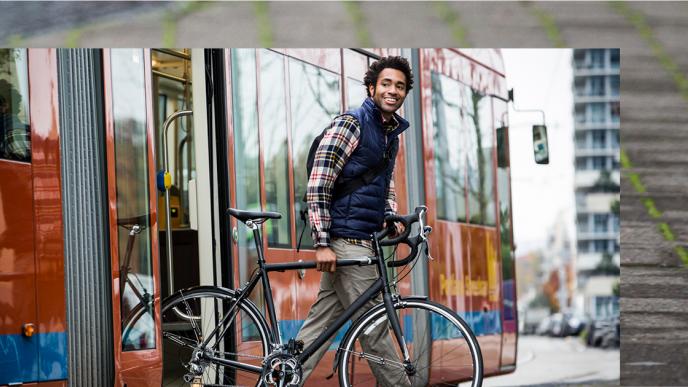 In Paris, Bordeaux and Grenoble, more and more solutions and initiatives are being implemented to reduce the number of trips being made by fossil fuel-powered vehicles, such as cycle tracks, low-emissions zones and new tramway lines. This is of vital importance: in France, 87% of journeys are made by road, and the transport sector accounts for 31% of total greenhouse gas emissions*. Switching to cleaner forms of mobility is therefore essential if we are to succeed in delivering the low-carbon transition.
The mobility of the future will feature more practical and less polluting modes of transport in city and regional centres – ones which are less harmful to the environment. This green mobility involves carbon-free solutions, such as hydrogen-powered buses, hybrid and electric vehicles and tramways.
By 2030, electric and hybrid cars will account for 58% of vehicle sales in Europe.
New shared uses based on connected services are giving impetus to this phenomenon: on-demand transport, self-service bikes and scooters, car-sharing, etc. There is another major trend under way: multimodal mobility, which involves combining several modes of transport for the same trip.
This evolution involves rethinking equipment and infrastructure, as well as improving urban logistics and rendering traffic more fluid. Local authorities are therefore in the front lines when it comes to rolling out effective forms of green mobility designed to make their regions more easily accessible and attractive on a day-to-day basis. 
Their priority? More high-performance public transport, with better coverage, improved levels of punctuality and higher frequency. They are also switching to cleaner fuels: the city of Pau, for example, introduced France's first "zero-emissions" bus route at the end of 2019. And in Senegal, Dakar's new electric TER regional express train network reduces bottlenecks in the capital while at the same time reducing CO2 emissions by 8500 tonnes annually. At the same time, numerous companies are greening their fleets on a massive scale. 
This has led to hydrogen-powered, electric and BioNGV vehicles flourishing in cities, alongside charging stations – such as the ones operated by the Artois-Gohelle joint public transport authority and Strasbourg's electric charging stations. Boosted by Europe's green recovery plan of July 2020, hydrogen-powered mobility in particular is experiencing rapid growth.
 
By 2013, all public and on-demand transport will be zero-emissions. 
In this time of digital sensors and geolocation, the effectiveness of sustainable mobility is also underpinned by smart transport systems, such as Navineo. These solutions optimise management of infrastructure, flows and the information given in real time, thus improving the quality of trips made.
As a major player in low-carbon mobility, ENGIE Solutions develops integrated turnkey offerings for local authorities and companies which meet their requirements so we can move forwards together towards a shared and connected form of green mobility: urban planning, transport infrastructure, clean fuels and smart systems.
* Source : SDES