Helping Michelin decarbonise its historic site of Cataroux
Is it possible to make an industrial site more efficient by renovating energy fluids and recovering untapped energy? The answer is yes!

Founded in Clermont-Ferrand (63) in 1921, the Michelin Group's historical Cataroux site comprises industrial, service and support activities. As part of the energy transition process that it initiated several years ago, Michelin enlisted the services of ENGIE Solutions in 2021 to green and optimise the site's energy consumption.

 
Overhauling the production of industrial utilities
To improve the site's energy efficiency and enhance productivity, Michelin has chosen to outsource the production of its utilities (steam, heating, chilled water, cooled water, compressed air). To achieve this, the ENGIE Solutions teams will renovate the existing refrigeration facilities on site. In parallel, they will also design, build and finance new refrigeration and heating facilities, then operate them for a period of ten years.
Waste heat recovery to supply the industrial site and the local population
In addition to overhauling the production of industrial utilities, our teams will install thermorefrigerating pumps on the refrigerated water loop to recover waste heat(1) from the tyre manufacturing process. This new source of green energy will not only cover Michelin's own heating needs, but will also supply heat for the city's residents, since the site will be connected to the local urban heating network, operated by Energie Clermont-Ferrand Avenir (ECLA), a wholly-owned ENGIE Solutions subsidiary. Once this connection is in place, Michelin will become both a consumer and producer for ECLA: in the summer, surplus production will be injected into the heating network and in the winter, the company will use this reclaimed energy for its own heating, with ECLA covering any additional needs.
(1) Waste energy or heat is surplus, non-recovered energy produced as a byproduct of an industrial process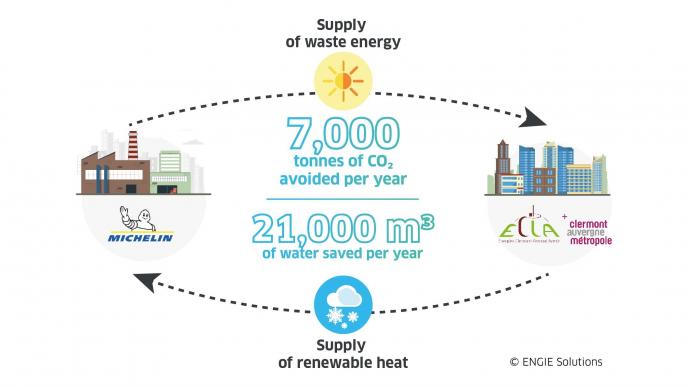 An environmentally friendly project
By recovering wasted energy and using it locally, Michelin and Engie Solutions will optimise and decarbonise the heating supply for around :
Pour Michelin
With regard to its utilities, this partnership to reduce by :
-50 % its gas consumption
-20 % its water consumption