ENGIE Solutions x Land forces - France
Land forces: how can an autonomous supply of drinking water be guaranteed during missions?
Ensuring the availability of drinking water in the field is a strategic challenge for the French Army. The mobile water treatment system (STEM: station de traitement des eaux mobile) designed by ENGIE Solutions with Suez under a contract with the DGA (French Directorate General of Armaments) produces drinking water from water available on the spot. Here are some explanations.

A system that can adapt to all types of water
It took three years to develop the mobile water treatment system, thanks to the joint efforts of industrial teams and Ministry of Armed Forces teams (DGA, Land forces, SIMMT), including the Armed Forces Health Service (SSA) and veterinary services. The system can treat all types of water: brackish water or seawater, uncertified water resources and water that potentially contains sources of uncontrolled pollution. The main advantage of the system is that it is very compact and can be deployed in sensitive locations. It uses innovative water treatment and testing processes that guarantee very high quality.

Innovative processes that meet field operation needs
First of all, water is captured from a river and stored in a 20,000 litre tank, into which the treatment machine's raw water pump is placed. The water then goes through four phases to make it fit for human consumption. First, it is pumped and sent through the pre-filters, which remove the densest suspended solids. Then it passes through ultrafiltration membranes, to eliminate almost all bacteria. During the 3rd phase, a reverse osmosis system enables the removal of viruses and unwanted particles from the water. During the 4th and final phase, the purified water passes through cartridges containing mineral salts that are required by the human body.
The whole production cycle is controlled using an operating console that enables the management of water treatment and quality.

A marked increase in water treatment capacity
The STEM system produces 6m3 of clean drinking water per hour on average, which is four times more than its predecessor, the mobile water treatment unit (UMTE). If seawater is being used, its capacity will decrease to 3m3 per hour. During operation, a larger number of tanks can be used, which enables the raw water storage capacity to be increased. Currently used in the Tarn region, the system produces 20,000 litres of water to meet the daily drinking water needs of 250 people. This innovation enables drinking water to be produced and distributed, completely safely and autonomously, using natural water sources. Its capacity can be increased to meet the daily drinking water needs of up to 800 people.
Key figures
3-10m3 of drinking water treated per hour
16 units produced by ENGIE Solutions in Valbonne
3 years to develop the solution
800 people supplied with drinking water per day
Un système qui s'adapte à tous les types d'eau
Il aura fallu trois ans pour développer la station du traitement des eaux mobile, fruit d'un travail collaboratif entre les équipes industrielles et du Ministère des armées (DGA, Armée de Terre, SIMMT) incluant le service de santé des Armées (SSA) et les services vétérinaires. La station permet de traiter tous les types d'eau, eau saumâtre ou de mer, ressources en eau non homologuées et eau contenant des sources potentielles de pollutions non maitrisées. Son avantage majeur tient en un système très compact et projetable sur des sites sensibles. Les procédés innovants de traitement de l'eau et de contrôle utilisés lui garantissent un très haut niveau de qualité.
Des procédés innovants qui répondent au besoin du terrain
L'eau est d'abord captée dans la rivière et stockée dans un bac de 20 000 litres, dans lequel est placée la pompe eau brute de la machine de traitement. Quatre phases sont ensuite nécessaires pour rendre l'eau potable. Elle est d'abord pompée et envoyée vers les premiers pré-filtres, chargés de retirer les matières en suspension les plus épaisses. Puis elle traverse des membranes d'ultrafiltration, afin de retirer la quasi-totalité des bactéries. La 3ème opération permet d'éliminer les virus et les particules indésirables dans l'eau grâce au système d'osmose inverse. La 4ème et ultime phase consiste à faire passer l'eau osmosée au travers de cartouches remplies de sels minéraux nécessaires au corps humain.
Toutes les phases de production sont contrôlées via un pupitre de commande qui permet de piloter le traitement et la qualité de l'eau.
Une capacité de traitement décuplée en opération
La station STEM produit en moyenne 6m3 d'eau consommable par heure, soit quatre fois plus de volume que son prédécesseur, l'unité mobile de traitement d'eau (UMTE). En cas d'utilisation d'eau de mer, sa capacité sera réduite à 3m3 par heure. En opération, on peut multiplier le nombre de bacs, ce qui permet d'augmenter la capacité de stockage en eau brute. Utilisée dans le Tarn, la station produit 20 000 litres d'eau pour alimenter les besoins en eau potable de 250 personnes par jour. Une innovation qui permet de produire et de distribuer de l'eau potable en totale autonomie et en toute sécurité, à partir de sources naturelles. Sa capacité à alimenter les besoins en eau potable peut monter jusqu'à 800 personnes par jour.
Partners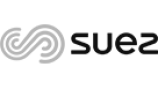 Expertise and offers
Image
Innovation in drinking water treatment
Image
STEM reverse osmosis system to ensure complete water purification