LCDP and AIRE NOUVELLE, a subsidiary of ENGIE Solutions, sign a partnership to convert the former CARSAT site into a model low carbon complex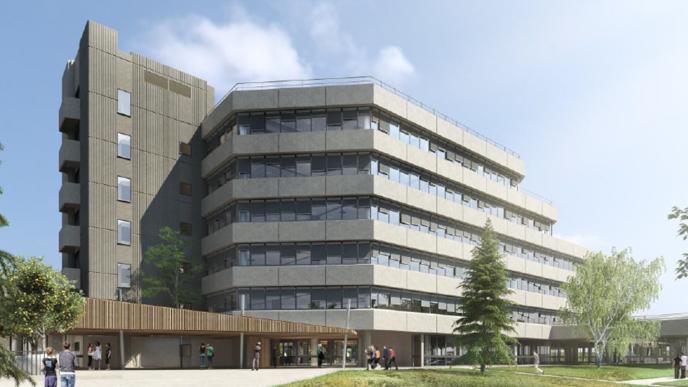 LCDP and AIRE NOUVELLE, ENGIE Solutions' property development and planning subsidiary, have signed a partnership agreement to develop the former CARSAT Bourgogne-Franche-Comté site (Dijon - Saint Apollinaire - ZAE Cap Nord), in the presence of Thierry Coursin, CEO of LCDP, and Sylvie Dao, CEO of AIRE NOUVELLE. As stakeholders committed to ecological transition and co-sponsors of this project, LCDP and ENGIE Solutions wish to make this administrative wasteland a demonstration of innovative and visionary urban programming based on mixed uses, as well as a model site in terms of environmental responsibility and energy efficiency. Called Tellus, this programme will focus in particular on putting nature back at the heart of this urban space.
Spreading the economic dynamism of the Cap Nord Business Park through a bold, large-scale project
Faced with the climate emergency and health challenges, LCDP and AIRE NOUVELLE aim to reconvert, rehabilitate and revitalise this remarkable property complex: a six-storey, 18,000 sq. m. building in an enclosed park of 30,000 sq. m., in the heart of a business park with significant economic weight (10,000 employees and more than 500 companies), close to Dijon's city centre. The project covers both the architecture and energy renovation of the building, as well as the deployment of soft mobility infrastructures and the renaturalisation of the site as a whole.
Supported by ARCHIGROUP (Lyon-Paris), an expert project manager in rearchitecture, LCDP and AIRE NOUVELLE are positioning themselves as the project owners of a new model of low-energy consumption building, efficient over the long term and producing part of its energy locally.
In addition, as an investor in energy infrastructures, ENGIE Solutions is helping to make the low-carbon transition competitive and will be able to offer companies bordering the business park to benefit from it. Ludovic Mouly, Deputy Managing Director of AIRE NOUVELLE, is in charge of the project with the support of Catherine Minaux, Regional Director of the France & Territories Institutions Department of the ENGIE group.
Recycling yesterday's building to create the building of tomorrow
As part of Dijon's dynamic Smart city approach, the rehabilitation of the former CARSAT site will provide facilities and a range of services that meet the needs of users of the site and the surrounding area, while offering unique services that will make it an attractive location for the whole conurbation. Ecomobility will be an integral part of the programme by promoting soft mobility and strengthening carbon-free uses.
To date, the rearchitecture of the building includes offices on 4 levels, an accommodation offering as well as numerous services: coworking, restaurant with terrace, meeting room rental, amphitheatre, datacentre, private nursery, sports hall, concierge service, wellness areas, indoor climbing gym.. to name but a few.
The aim is to build a landmark in eco-building by ensuring the highest energy, ecological and health standards, but also by perpetuating the reuse and recycling of materials through a C2C ("cradle-to-cradle") approach. At a time when the Environmental Regulation 2020 sets the milestones for the tertiary property of tomorrow, LCDP and AIRE NOUVELLE are forming a proactive partnership towards a more sustainable construction and a greener city.
*Caption of the photo attached to the press release: Around Sylvie Dao (CEO of Aire Nouvelle) & Thierry Coursin (CEO of LCDP), Ludovic Mouly and Remi Lesage (Aire Nouvelle), Jean-Philippe Charon (Archigroup) and the regional teams of ENGIE Solutions.
Key figures of the Tellus programme:
30,000 m2 of land
18,000 m2 of surface area
14,000 m2 of parking space
34% green spaces
5,000 m2 of roofs
6 levels
1 ZAE with 10,000 employees and more than 500 companies