Another milestone in the local, green energy heating project for the inhabitants of Tours Métropole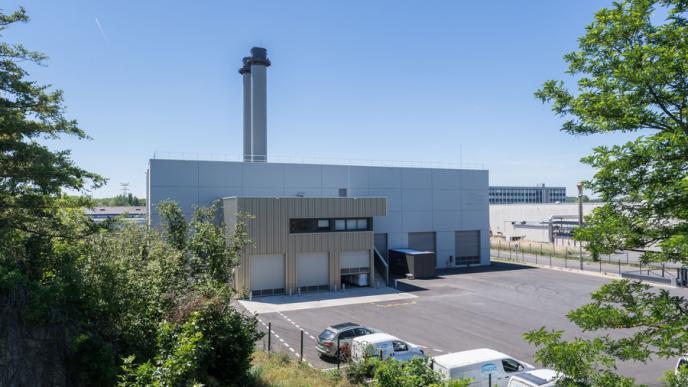 Tours Métropole Val de Loire is firmly committed to energy transition. In 2019, it entrusted Tours Métropole Energies Durables (TM-ED), a subsidiary wholly owned by ENGIE Solutions, with the creation of its new heating network via a 23-year Public Service Delegation contract. This contract provides for the installation of 17 km of pipework.
By 2024, the equivalent of 10,000 homes and almost 30 public buildings will benefit from heating and domestic hot water that is 74% produced from biomass, a renewable, local energy source. The second biomass boiler has just been commissioned, representing the final stage for deployment. The heating plant, fully equipped with all its production equipment, was inaugurated by Frédéric Augis, President of Tours Métropole Val de Loire, and Thierry Landais, Director of ENGIE Solutions Northern Region.
In-depth transformation of Tours' sources of heating
More environmentally friendly than individual installations, renewable-energy heating networks constitute a strategic driver for energy transition. This is why TM-ED's teams have been working alongside Tours Métropole Val de Loire for nearly three years to develop this new virtuous network in Tours Ouest-La Riche.
The aim is to install 17 km of underground pipes in the Métropole, which will transport energy for heating and domestic hot water to 105 new substations at the foot of the buildings. Presently, more than 14 km of pipework has already been laid in the streets of Tours. That means 80% of the network has been installed in just three years!
Commissioned in August 2020, the first boiler supplying heating and hot water to the buildings covered by the network is now supplemented by a second boiler.
It should be noted that several emblematic buildings in Tours already benefit from this virtuous heating network: Mame and Les Beaux-Arts, Bretonneau and Clocheville Hospitals, and Tours Habitat and Ligéris housing.
Supporting the deployment of a network that benefits the local economy
The biomass energy supply is the key advantage of this new decentralised energy infrastructure and it was resolutely chosen as the solution by Tours Métropole Val de Loire and TM-ED to support the local economy. The new Menneton heating plant, now equipped with two 6 MW biomass boilers, is powered exclusively by wood fuel from local forests within a maximum radius of 100 km. This boost for the wood sector in Tours has consequently created 5 jobs.
Proactive communication concerning the project
To keep locals informed throughout the work, a specific communication system was set up for each extension phase. In particular, more than 5,000 letters were sent out or the information was displayed at the entrance of the buildings. Over a hundred weekly meetings were organised not far from the work sites to report on how work was progressing and to explain the advantages to be gained from the network.
Key figures:
1 heating plant composed of two 6 MW biomass boilers and two 10 and13 MW peak-demand gas boilers
74% renewable energy
17 km of pipework
105 new substations
1 new heating plant
20,000 tonnes of CO2 saved
23-year Public Service Delegation contract
€32 million in investment by the delegatee, supported by ADEME with €8.9 million and the Centre Val de Loire providing €600,000.