ENGIE supports the transformation of Vélizy-Villacoublay, a pioneering town in the zero-carbon transition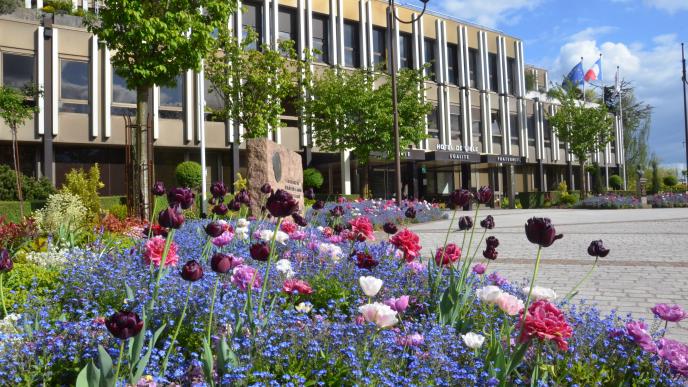 Today, Jean-Pierre Clamadieu, Chairman of the Board of Directors, Isabelle Kocher, CEO of the ENGIE Group and Pascal Thévenot, Mayor of Vélizy-Villacoublay presented the innovations and systems deployed by ENGIE Solutions throughout the town.
Increasing urbanization calls for local authorities to renew their vision on environmental and energy challenges, placing them at the heart of their action, covering all aspects of citizens' daily life. Mobility, public lighting, parking and energy production are among the challenges that they face to build a welcoming, sustainable town. ENGIE Solutions supports decision-makers to identify the most economical and ecological solutions to meet the needs of residents and public services.
Vélizy-Villacoublay council is aware of the challenges of the energy transition, and has chosen to rely on the wide range of recognized skills and expertise within ENGIE Solutions. This takes the form of several strategic projects that aim to reduce carbon emissions and optimize public service management, as well as promoting positive regional development.
Click here to see all the ENGIE Solutions projects.
Technological and digital innovation, an essential driving force to make the town more attractive
Since February 2017, ENGIE Solutions has been operating a 9-year energy performance contract (EPC), which includes the operation and maintenance of 4,000 lighting installations which now use LEDs and 44 crossroad traffic lights. Annual energy consumption will be reduced by 44% in the long-term, which represents over 1,000,000 KWh per year.
Since Vélizy-Villacoublay encourages low-carbon mobility, ENGIE Solutions has installed electric charging terminals in three neighbourhoods, each with a charging capacity of 36 KW. To improve traffic flow and facilitate parking, the YOUPI application developed by ENGIE Solutions allows drivers to monitor available parking spaces in real time throughout the area. Over 2,000 parking spaces are now equipped with sensors: the largest scale operation of its kind.
As part of a joint innovation partnership between the town and the Ile-de-France region, ENGIE Solutions has also proposed an experiment to improve air quality in the classrooms and playground of the Exelmans infant school. This project has won the "Innovation to improve air in public buildings" call for projects, awarded by the Ile-de-France region. During this 3-year experiment starting in 2020, over 100 young children and their teachers will benefit from sensors that provide information on air quality and innovative pollution control systems.
Green, local energy, a showcase for the transition to a zero-carbon world
ENGIE Solutions also provides innovative technology to bolster the town's excellent energy policy. The company operates the local heating network which provides heating and domestic hot water for the equivalent of 15,000 housing units, over a distance of 19 km.
In October 2019, the partnership between Vélizy-Villacoublay and ENGIE Solutions, with support from the Ile-de-France region and ADEME, resulted in the creation of the first S.A.S ENR (Simplified Joint-stock Company for Renewable Energy) in Ile-de-France, to develop geothermal energy in the region. For 28 years, this company will provide heat for the Vélizy network and for local industrial firms, drawing water from underground to transform it into energy. Over 60% of the energy generated for the heating network will therefore be derived from renewables, providing heat with low environmental impact and ensuring stable heating prices for residents.
 "Vélizy-Villacoublay has always been a place for innovation, and Vélizy residents are mindful of their quality of life. Since 2014, we have initiated an urban renewal program that facilitates innovative forms of carbon-free mobility, as well as a raft of actions to foster biodiversity and the well-being of the town's residents. ENGIE Solutions is helping us to develop specific projects that meet our expectations, to make Vélizy-Villacoublay an exemplary sustainable town," declared Pascal Thévenot, Mayor of Vélizy-Villacoublay.
"Towns and regions face many challenges. To ensure that their citizens enjoy a high quality of life, while remaining firmly committed to sustainable development, they must implement new technology and new methods of operation. At ENGIE, we are convinced that the only way to provide the best response to the challenges faced by local authorities is to pool our expertise, which we propose to do with ENGIE Solutions." explained Isabelle Kocher, CEO of the ENGIE Group. "More and more towns are now making a firm commitment to the energy and climate transition. This can be observed both in France, as is the case here in Vélizy, but also in many other countries. Providing towns with our support, skills and capacity for innovation, as well as drawing on the long-term close relationship that we have built with local authorities, is at the heart of ENGIE's strategy," stated Jean-Pierre Clamadieu, Chairman of the Board of Directors.
In figures: ENGIE Solutions in Vélizy-Villacoublay
4,000 lighting installations operated and maintained
44 traffic lights operated and maintained
2,000 parking spaces equipped with sensors
1 YOUPI application to monitor parking spaces in real time
4 neighbourhoods equipped with electric charging terminals
19 km of heating network operated
18 MW of geothermal power
130 MW of installed power
Geothermal energy: underground temperature between 50 and 95°C
And also...
15,000 homes provided with heating and domestic hot water
+ 60% renewable energy for the heating network by 2022
+ 44% of energy savings on public lighting in the long-term