ENGIE Solutions commissions the first totally green electrical substation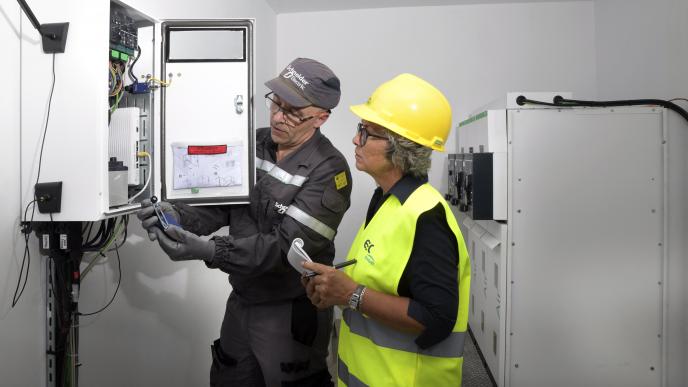 ENGIE Solutions has just commissioned the first green electrical substation* in the world through its subsidiary EEC, which operates the electricity distribution network in the city of Nouméa.  
A revolutionary electrical substation
This brand new public electricity distribution substation, developed by Schneider Electric, combines green technology with digital solutions, and uses pure air insulation and vacuum interruption to eliminate the need for greenhouse gas.
The project is fully aligned with ENGIE Solutions' commitment to assist its customers in taking up the challenge of the zero carbon transition by optimising the use of resources.
This new technology distributes 100% carbon-free energy and ensures an uninterrupted, efficient, reliable, secure, digital service for users. From now on, this new transformer substation will distribute power throughout a whole neighbourhood in Nouméa (630 distribution substations), to meet the energy needs of the whole city. 
This pilot project is particularly economical and environment-friendly, a pioneering step in the zero carbon transition. It provides better service for customers and at the same time enables the uptake of even more decentralised green energy. 
A country at the forefront of smart networks
In line with its firm commitment to the energy transition, ENGIE Solutions, through its subsidiary EEC, previously inaugurated a renewable energy storage and management unit in Lifou, New Caledonia in November 2019. The aim is to use solar and wind power to generate electricity, which will eventually replace the diesel generators at the thermal power plant. This storage unit is connected to the local smart grid, an innovative energy management system that enables intermittent renewable energy to be managed effectively and improves quality of life for local residents. 
Equipment connectivity is fundamental, enabling both preventive maintenance and greater efficiency, thus providing higher quality service for the final customer. 
By commissioning this totally green electrical substation in New Caledonia, ENGIE Solutions has just taken another globally significant step forward on the road towards a carbon-free future using smart networks. 
*An electrical substation is a transformer substation that enables low voltage power (from 380 to 220 volts for a household) to be distributed throughout a neighbourhood.