ENGIE Solutions and IVECO commit to making NGV a key component of the clean transport transition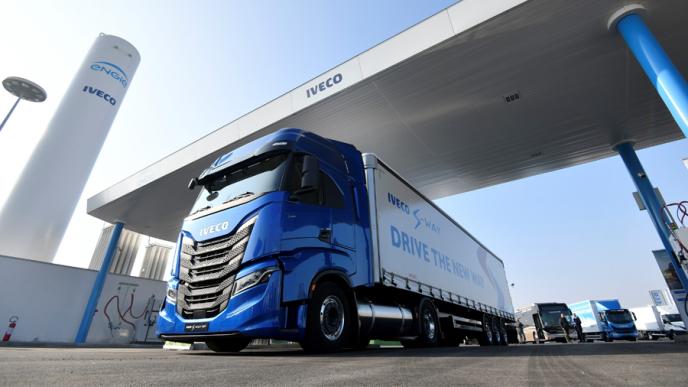 One year's worth of free fuel with 100 new IVECO trucks running on natural gas, the equivalent of 2 to 3 million litres of diesel for hauliers, and a significant decrease in particulate, NO2 and CO2 emissions for the planet.
IVECO, précurseur et leader dans la production et commercialisation de véhicules alimentés au gaz naturel depuis plus de 25 ans, et ENGIE Solutions, premier développeur de mobilité durable en France (Gaz Naturel Véhicule, hydrogène, électrique), s'associent afin d'accompagner la reprise d'activité des acteurs du transport de marchandises.
Key players in the energy transition, IVECO and ENGIE Solutions have formalised a partnership aiming to revive the road haulage sector and the transition toward more sustainable transport. In practical terms, buyers of the first hundred IVECO S-WAY Natural Power trucks ordered from 21 July 2020, with a supply contract with ENGIE Solutions, will receive a card including one year's worth of free fuel, valid at all public CNG and LNG stations across the ENGIE Solutions network. The huge advantage of natural gas over diesel, LPG and heavy fuels is a 95% decrease in fine particulates, a 90% decrease in NO2 and a significant drop in CO2.
IVECO, a pioneer and leader in the production and sale of natural gas vehicles for more than 25 years, and ENGIE Solutions, the leading developer of sustainable transport in France (natural gas for vehicles, hydrogen, electric) have joined forces to support the business recovery of the road haulage sector.
In order to tackle the drop in traffic caused by the health crisis and the heavy impact on the financial health of road hauliers, IVECO and ENGIE Solutions are launching an exceptional offer of one year's worth of free fuel to the hauliers who purchase an IVECO S-WAY Natural Power:
For purchasing an IVECO-S-WAY rigid lorry with a GVW (Gross Vehicle Weight) of 19 to 32 tons, the haulier will receive a fuel card offering 18,000 kg of CNG or LNG - the equivalent of 20,000 litres of diesel: enough to cover a distance of 60,000 km in mixed urban/extra-urban driving cycle.
For the purchase of an IVECO S-WAY tractor trailer with a GCW (Gross Combined Weight) of 44 to 50 tons, the haulier will receive a fuel card offering 25,600 kg of CNG or LNG - the equivalent of 30,000 litres of diesel: enough to travel a distance of 100,000 km on the highway.
Customers who choose the bio-NGV option will also benefit, paying only for any amounts that exceed the offer. In fact, biomethane, derived from waste-to-energy conversion, also offers significant energy independence and a completely virtuous operating cycle, from well to wheel, reducing CO2 emissions by up to 95%.
In this race against global warming, all resources available must be used. That is why IVECO is continuing to develop CNG and LNG vehicles, 100% compatible with bio-NGV, in order to meet the most complex requirements and applications of hauliers.