Lifou island, New Caledonia: 100% Renewable Energy by 2020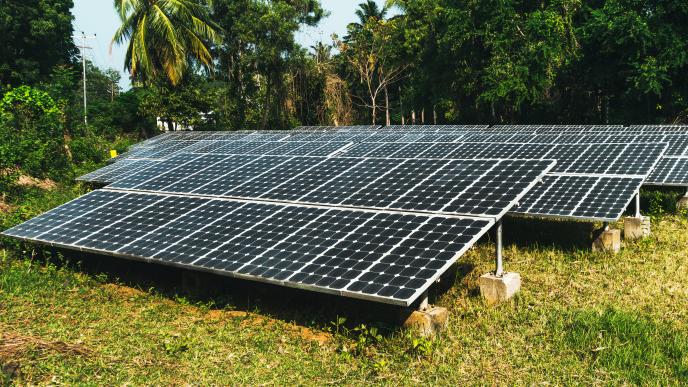 On November 18th, Carole Le Gall, CEO of ENGIE France Networks, inaugurated an energy storage unit on Lifou island, in the presence of Christopher GYGES, the New Caledonian government minister for the energy sector.
Since 2017, EEC (ENGIE Solutions) has embarked upon a three-stage renewable energy development program, which aims to achieve the goal of 100% renewable energy by 2020.
ENGIE EPS, Alizés Energie and Socometra ENGIE are also partners in this project, which shows the ENGIE Group's ability to offer integrated, cutting-edge solutions for the zero-carbon energy transition. EEC also relies on local companies on the island, such as Caledonie Toiture and KMK Constructions.
The project consists in using solar and wind power to generate electricity, which will eventually replace the diesel generators at the thermal power plant.
Since renewable energy resources are by nature intermittent and dependent on sufficient wind and sunshine to provide stable, green energy to consumers, this means that large-scale, centralized energy storage solutions are necessary.
Through the installation of this storage unit, driven by an innovative energy management system, EEC has now moved into the second phase of the "Lifou 100% Renewable Energy by 2020" project.
The storage unit, which was connected to the high voltage distribution network in early September 2019, provides 5.4 MVA of power and has a capacity of 5.06 MWh. It can supply Lifou with 100% green energy (with the battery in service and electricity generators turned off) for several hours a day and store the excess energy provided by the solar and wind power plants to return it to the grid when needed, thus reducing diesel consumption.
Over the course of the project lifecycle, tariff system savings will total nearly 1 billion.
At the end of 2020, all the solar parks will have been installed and 100% renewable energy (90% wind + solar power and 10% biofuel - coconut oil) will be injected into the network, saving 3 million litres of diesel and 8,000 tons of CO2 emissions.
This achievement, the first of its kind worldwide, will make Lifou a global model for green energy.
Looking back to the first phase
The first phase of the project consisted in increasing solar power production facilities. Alizés Energie built 6 solar farms throughout Lifou island representing a total of 960 kWp (kilowatt-peak) of power, which boosted the previously existing installations (2 solar farms and 1 retractable wind turbine). All these facilities have been in service since March 2018, resulting in an increase in the annual proportion of energy produced from renewables in Lifou, which rose to 22% in 2018.