ENGIE Solutions and Nokia to deploy the LTE mobile network for Grand Paris Express lines 15, 16 and 17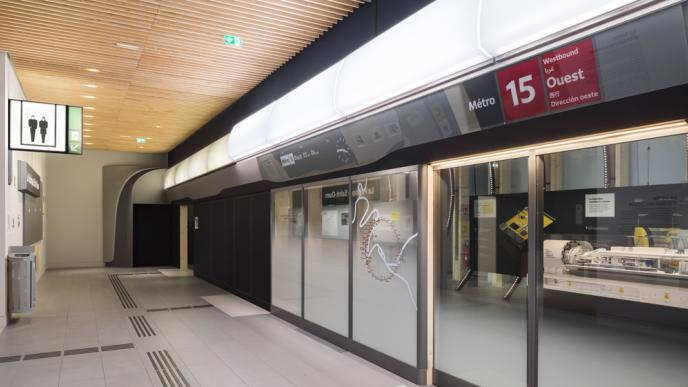 Paris, France – The consortium made up of ENGIE Solutions and Nokia has been selected by Société du Grand Paris (SGP) to deploy a private LTE mobile network for the new Grand Paris Express automatic metro lines. The project will cover lines 15, 16 and 17 and will span 200 kilometres of new lines, 68 new metro stations and all the trains running on these lines.
This project is intended to provide critical operational services to meet all operating and maintenance needs, as well as the needs of the emergency and security services on the future Grand Paris Express transport network.
This choice is part of an innovative approach from SGP, which wishes to replace the conventional technologies normally used in transport with LTE*, an evolving broadband technology that is very reliable and secure.
Nokia will deploy its LTE PMR radio solution designed for voice communications (audio communication across all Grand Paris Express structures and the entire length of the track), data (sending/receiving files and multimedia material) and images (sending/receiving video, video surveillance images from on-board trains). World leader in the deployment of rail communications networks, Nokia was the pioneer in the development of private wireless networks within many vertical industries, and today has more than 130 large corporate clients around the world using 4.9G/LTE and 5G private wireless networks.
Matthieu Bourguignon, Vice-President Europe at Nokia Entreprise, said: "The creation of the new Grand Paris metro network is an ambitious project and we are delighted to be collaborating with ENGIE Solutions as part of this project. Our selection by Société du Grand Paris confirms Nokia's place as a telecommunications leader in the transport market and in particular for critical networks such as GSM/R, LTE, 5G, IP/MPLS, cybersecurity and IoT analytics."
ENGIE Solutions will provide its expertise in design and construction of rail transport infrastructure (tram, metro, conventional and high-speed railway lines).  With its long experience in the management of transport projects around the world, ENGIE Solutions will steer the project throughout the value chain : study, purchasing, construction, tests, through to overall commissioning of the transport service. ENGIE Solutions will rely on a team specialised in strategic support for the management of complex rail projects and systems integration (requirements, interfaces, risks, safety and performance).
Jean-Luc Figuereo, Director of the Transport Infrastructure market at ENGIE Solutions Industries, said: "Alongside Nokia, ENGIE Solutions is proud to contribute to this major project, which will facilitate travel for Île-de-France residents. This is not simply a transport project, it is also a major digital transformation project. We are thus helping to create the cities, districts and infrastructures of tomorrow, more resilient and better connected to their ecosystems."
ENGIE Solutions helps its clients move towards the zero-carbon transition by providing global offers in favour of green mobility, integrating energy supply and the construction of connected infrastructure, to make public transport more attractive.
Resources:
*LTE (Long-Term Evolution) is the 4th generation of mobile phone network. This technology is marketed under the name 4G.