Drilling for the Vélizy-Villacoublay geothermal network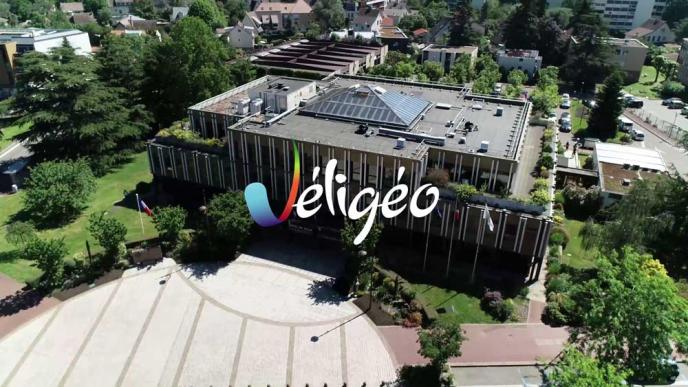 27 August 2020 marked the start of drilling works to construct the future Vélizy-Villacoublay geothermal plant which will be managed by teams from VELIGEO, a renewable energy production company owned by ENGIE Solutions and the local authority. This is a major advance in the project to green the city's Vélidis district heating network, which will be 60% supplied with geothermal energy. This project, financially supported by the Ile-de-France region and ADEME Ile-de-France at nearly €9 million, is a promising first in the country which will help prevent the production of 22,801 tons of CO2 a year. 
Geothermal drilling remains one of the most iconic moments in the construction of a geothermal plant and the most spectacular phase. It will be carried out using a 40-metre-high rig, installed in an urban area, which will drill up to 1,600 metres deep: a high-tech operation that will extend into the start of next year. The Vélizy-Villacoublay geothermal exploration works will be the first in France to apply multi-branch drilling technology to a deep geothermal facility. The two-branch wells will make it possible to double production levels to maximise the volume of reservoir drained. This will facilitate the capture of a heat source at 64°C and will generate over 16 MW of thermal input.
What is geothermal energy?
A geothermal plant captures heat from underground, where the water temperature is between 50 and 95°C, then turns it into energy. The captured heat is transferred to the district heating network to provide heating or domestic hot water for the buildings in a neighbourhood. The water is then reinjected back into the groundwater.
To enable this process, the so-called "doublet" technique is used: an extraction well allows calories to be captured from geothermal water and a reinjection well allows the full volume of extracted water to be returned underground. The temperature of groundwater increases with depth, by 3°C every 100 metres.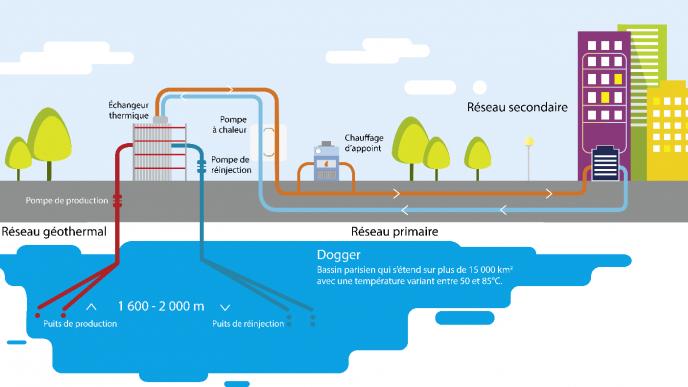 Vélizy-Villacoublay and ENGIE Solutions partners in the project 
For several years, the Vélizy-Villacoublay town council, with the support of ENGIE Solutions, has been working to green its district heating network. This project has been formalised with the creation of the first S.A.S ENR (Simplified Joint-stock Company for Renewable Energy) in the Ile-de-France region. Its mission is to develop geothermal energy in the Vélizy region. For 28 years, this company will provide heat for the Vélizy district heating network and for local industry, by drawing groundwater to then transform it into energy. Over 60% of the heat provided by the Vélidis heating network will therefore be derived from renewable energy: heating with a low environmental impact, thus stabilizing heating prices for future customers. 
For a total investment of €25 million, this project will help meet the modern challenges of transitioning to low-carbon energy production methods. In fact, using geothermal energy will make it possible to prevent the emission of 22,801 tons of CO2 into the atmosphere a year, equivalent to the emissions of 15,000 vehicles. 
 
"Vélizy-Villacoublay has always been innovative and attentive to its environment. After the creation of a cogeneration system in the 1970s, the geothermal production of domestic heating is the culmination of a great partnership with ENGIE Solutions. It is a project that is much awaited and appreciated by every Vélizy citizen, proud to play a role in reducing our carbon footprint," said Pascal Thévenot, Mayor of Vélizy-Villacoublay.
"In Ile-de-France, ENGIE Solutions' district heating networks supply more than 400,000 housing units," said Wilfrid Petrie, Executive Vice President of the ENGIE Group responsible for ENGIE Solutions. "Implementing an innovative drilling technique within the Vélidis network, a flagship geothermal project in Ile-de-France, demonstrates once again our teams' expertise in deploying the full potential of local renewable energy in order to make tangible progress toward a carbon-neutral economy."
 
Support from the Ile-de-France region and ADEME Ile-de-France
The Ile-de-France region is supporting this geothermal project with €3 million. "The region is proud to be backing this project to help Vélizy-Villacoublay reduce its carbon footprint. It is perfectly in line with the region's environmental policy," said Valérie Pécresse, President of the Ile-de-France region. 
ADEME Ile-de-France is also helping to fund the deep geothermal "doublet" drilling project, as well as the demonstrator programme for the innovative multi-branch technology: "This technological innovation makes it possible to consider implementing deep geothermal energy production across the West Ile-de-France region, an area that does not currently have any. ADEME is thereby fulfilling its role of developing new technologies while supporting the regions," said Michel Gioria, Regional Director of ADEME Ile-de-France. 
 
Figures for the Véligéo project:
•    1 600 m: Depth of the wells
•    2 400 m: Length of the wells
•    16 MW: Thermal input
Figures for the Vélizy district heating network:
•    19 km
•    140 delivery points
•    12,000 housing unit equivalents
•    130 MW of installed power
Schedule of works:
•    July to August 2020: Construction of the foreshafts
•    August 2020 – Winter 2021: Drilling
•    2021: Construction of the Vélizy-Villacoublay geothermal plant and the connection network
•    End 2021: Tests and commissioning