The YGéo heating network operated by ENGIE Solutions will provide renewable heating to three ecodistricts in Rosny-sous-Bois and Montreuil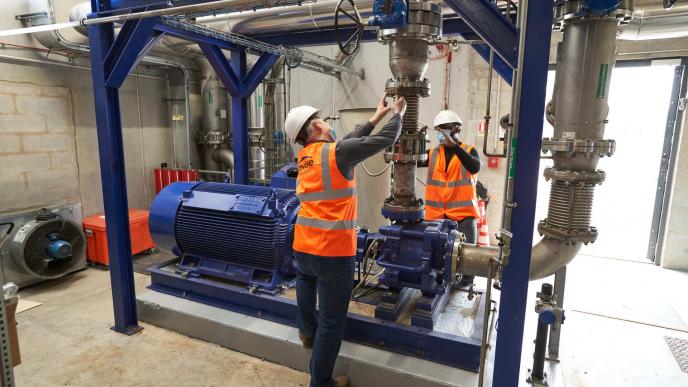 The YGéo heating network operated by ENGIE Solutions aims to heat the equivalent of 10,000 homes in the communes of Rosny-sous-Bois, Noisy-le-Sec and Montreuil. Commissioned in 2016, this geothermal network reflects the joint ambition of the three towns and SIPPEREC (Syndicat intercommunal de la périphérie de Paris pour les énergies et les réseaux de communication - the inter-municipal utility for electricity and communication networks in outer Paris) to increase the use of renewable energies in the south of Seine-Saint-Denis. This generating plant has received financial support from ADEME and the ÎIe-de-France region.
2021 marks a major step in the development of this network, which draws over 75% of its energy from geothermal sources that are both local and renewable. In fact, three rapidly growing areas in this region have opted for carbon-free heating produced by the YGéo plant:
The Mare Huguet ZAC (zone d'aménagement concertée - mixed development zone) in Rosny-sous-Bois, which is in the final stage of being connected. This ecodistrict, formerly an abandoned railway track, has a number of "green" attributes, added to which is the choice of geothermal energy as a heating solution. Over 900 housing equivalents will benefit from this natural, locally-produced resource. 
The Coteaux-Beauclair ZAC in Rosny-sous-Bois has also chosen this type of renewable heating. This will extend the YGéo heating network by 95,000 m2 and nearly 1,400 housing equivalents. Two thirds of the connections planned in this ecodistrict are already contracted for commissioning between 2022 and 2023.
Lastly, the Boissière-Acacia ZAC in Montreuil, completed in 2019, has recently been connected to the YGéo heating network. This zone, which has been totally remodelled to make sense of an isolated enclave, covers an area of over 100,000 m2 with 1,500 housing equivalents receiving heating and domestic hot water from geothermal energy.
The YGéo heating network is a genuine lever for the energy transition in this rapidly expanding region. It offers residents the opportunity to access clean local energy whilst providing a preferred heating solution for these new mixed development zones, which are designed to promote well-being in urban areas.
Key figures:
2 x 1,800 m deep geothermal wells
14 MW of geothermal energy coupled with 3 MWe heat pumps
Over 10 km of network
Over 10,000 homes will be heated eventually
9 decentralised emergency boost boiler plants distributed throughout the network
Over 50 substations
Over 100 GWh distributed annually
82% of renewable energy in 2020
15,800 metric tonnes of CO2 saved per year, equating to the annual emissions of 8,600 vehicles